High Mesa Chile Co.
Regular price
$12.00 USD
Sale price
$10.20 USD
Unit price
per
Sale
Sold out
Bold. Vibrant. Smoky.
This sauce is our OG and based around the complex flavor of flame roasted Fresno chiles.  Our small batch flame roasting process develops an aged, smoky flavor in the chiles that is balanced with a hint of sweetness.  The richness from this red pepper makes it great substitute for different srirachas.  This medium heat sauce goes great on everything (literally), so order two, because you'll be out before you know it. 
Whether grilling, dipping, marinating, or topping your favorite dishes, our Roasted Fresno Hot Sauce will elevate every meal.  Try it on tacos, pizza, grilled meats, seafood, eggs, and your morning avocado toast.
Why Choose High Mesa Chile Co.?
Crafted in Small Batches: Each bottle is a labor of love, meticulously crafted in small batches to maintain consistency and flavor integrity.
Natural Ingredients: High Mesa Chile Co. hot sauce is free from artificial preservatives, colors, or additives, making it a healthier choice for you and your family.
Experience the Heat, Embrace the Flavor:
Elevate your culinary adventures with High Mesa Chile Co.'s Flame-Roasted Fresno Hot Sauce. Unleash your inner chef, get creative in the kitchen, and let the bold flavors of the Southwest transform your meals.
Share
View full details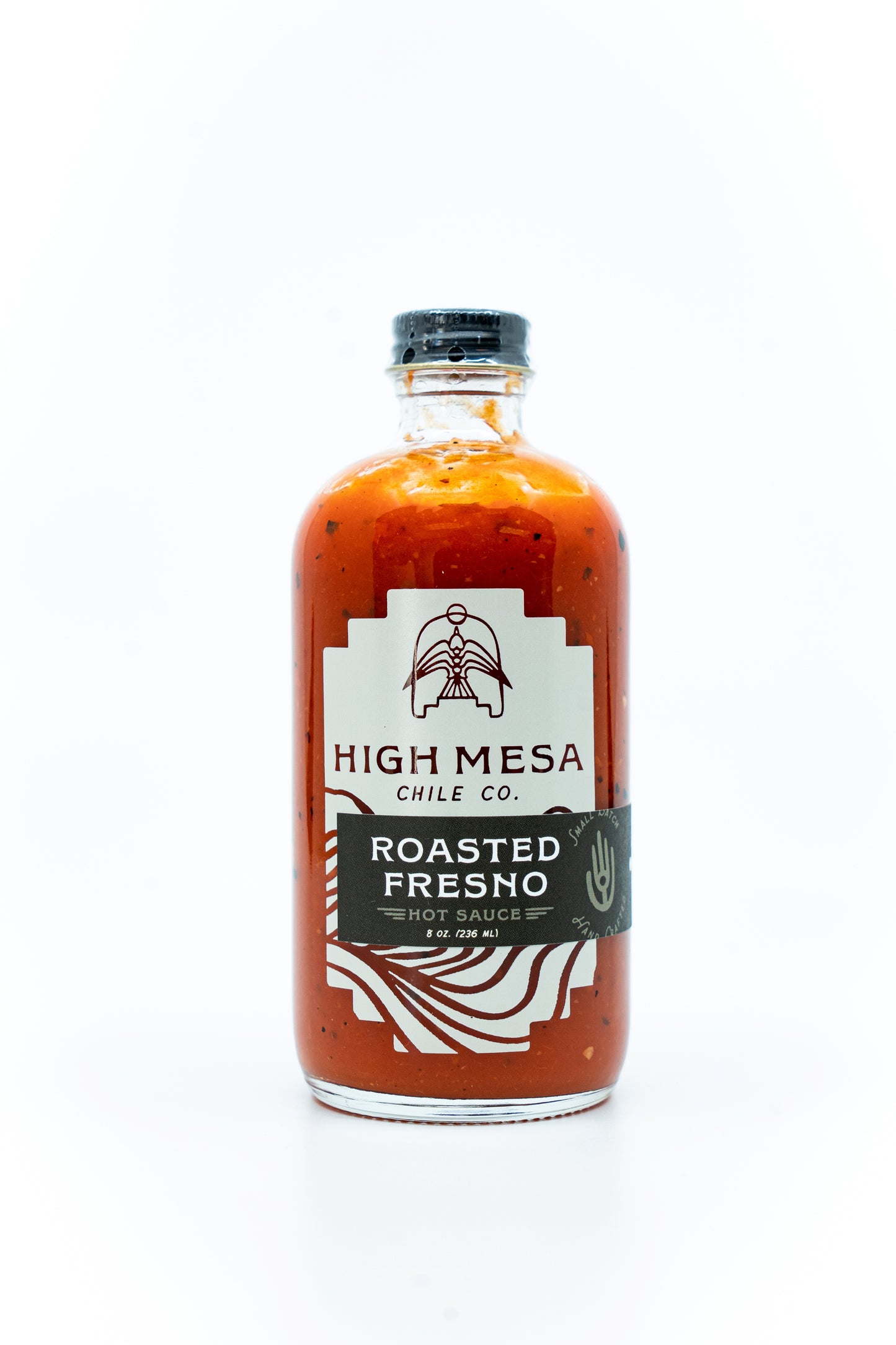 Outstanding hot sauce. I highly recommend this company. 
A New Mainstay Hot Sauce
We've been huge fans of the Hatch Hot Sauce so I wanted to try some other options, and immediately fell in love with the Fresno. Tastes absolutely excellent on everything from eggs to tamales to burgers. Definitely going to have to keep this stocked alongside the Hatch.
Amazing!
Insanely good hot sauce - goes with everything. Highly recommend.
OH MY GOSH!! This IS the SAUCE!!!!
My husband and I recently spent a week at the Ritz Carlton in Santa Barbara. The Ritz's main restaurant carries mini bottles of this sauce and it is set out with the other condiments for breakfast, lunch and dinner (with the ketchup, mustard, mayo, etc). I first tried the sauce on my eggs & avocado toast--it was amazing!!! I simply fell in love with the flavor and heat. I then tried it on pizza--WOW!! This is my new favorite hot sauce. It is very clean and has a slow heat (medium). I recently discovered it is great to blend with a little mayo in chicken salad. I truly believe the options are endless so I ordered 4 bottles tonight as I need more (my mini bottle is almost empty). Instead of ordering one, I am thinking they would make great hostess gifts and I want to spread the FireBirds Hot Chili secret.
LOVE
Love my Fresno hot sauce! I put it on everything! Great flavour!
Company is wonderful at accommodating.